Humber Valley Heritage Trail hike 2015-5-27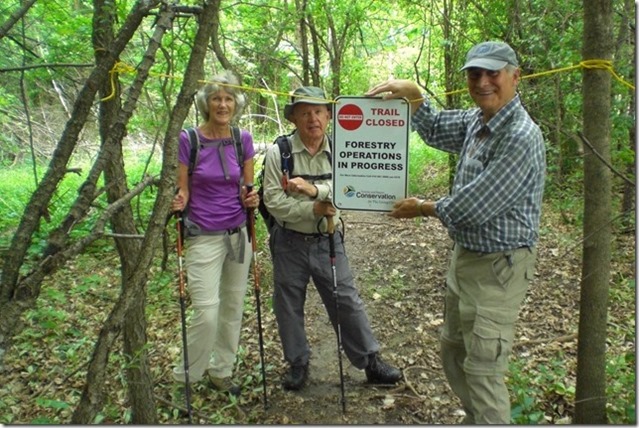 Humber Valley Heritage Trail hike 
Four Brits (Nicola, Stefan, Mike (not in picture) and Malcolm hiked the Humber Valley Heritage Trail on May 27th. from Castlederg Rd. to  Edelweiss Park in Bolton.
TRCA foresters were working near the Castlederg entrance to the Trail but shepherd us through the work zone allowing the hike to continue as planned.
The photograph was taken as we left the work zone.
This trail crosses meadows, skirts farmers fields and passes through lovely mixed forests carpeted in wild flowers and fern. The Trail is moderately hilly with a few steep inclines. In places the Trail follows a ridge allowing views over forested valleys. The Trail crosses Duffy's Lane which is under construction. The entrance to the Trail on the opposite side of Duffy's Lane was blocked by a continuous wire fence. However, we found a culvert close to the Trail that allowed us to scramble under the fence and continue our trek to Edelweiss Park in Bolton. Hopefully an opening will be made in the fence when construction is complete.
Although it was a warm humid day the discomfort was minimized in the forests.
Apart from enjoying the beauty of this trail we were delighted to see a doe with her fawn and a snake. All quickly disappeared when they knew they had been spotted by us.
We hiked 16Km in 3hrs. 45mins. then drove to the Black Bull in Bolton to reminisce.
Malcolm Hann