EtoE #4 - Walker Rd. + 10th Line to Hwy's 35/115. 2015-5-18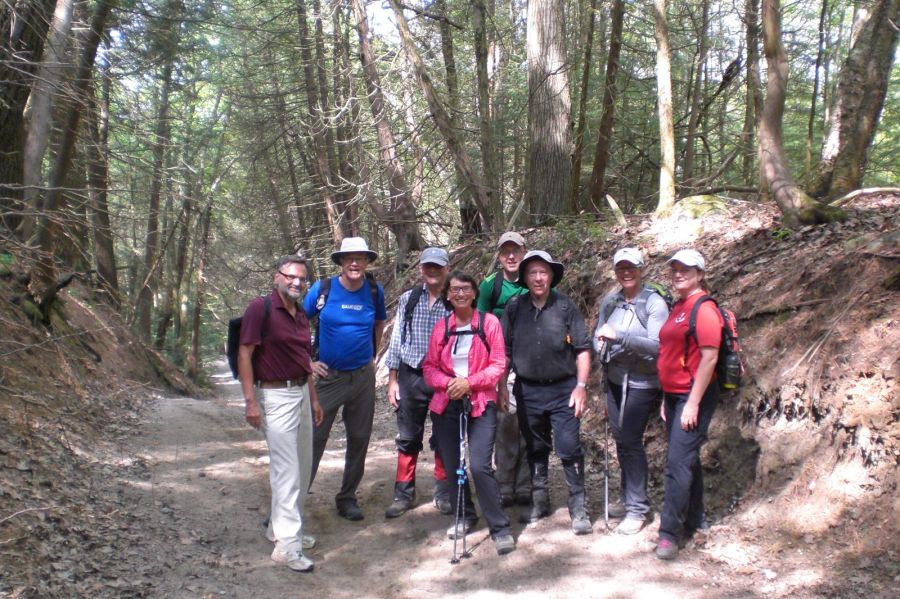 E2E hike #4, May 18th 2015.
Place: Walker Rd. + 10th Line to Hwy's 35/115.
9 hikers gathered at the meeting place (Hwy's 35/115) and shuttled to the start of our hike at Walker Rd. +10th Line.
For a week the weather forecast had been for varying amounts of rain for the hike day but changed to showers for the mid-afternoon by the time we actually started this hike.
The shuttle cars parked 100m. south from the trail entry point on Walker Rd. + 10th Line, in a large road side bay of Poison Ivy.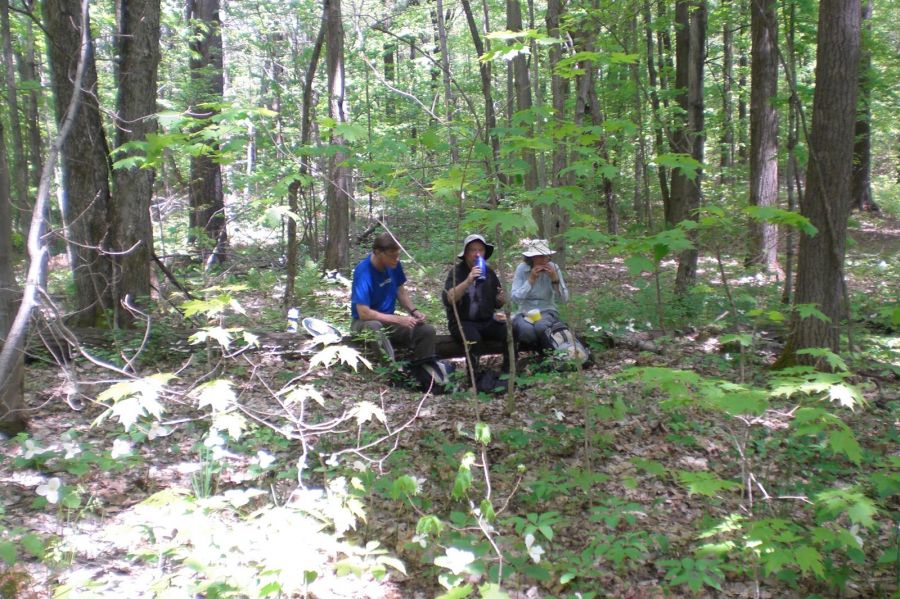 It was an excellent day for hiking with high cloud filtering the sun. A few early season mosquitos were buzzing around and most of us donned the first insect repellant for the season.
Then we were off heading west on the trail road allowance.
An hour into the hike we arrived at the Ganaraska Welcome Centre for a short rest and to top up water bottles.
This section of trail is mainly sandy with many rock strewn areas. Grumpy hikers were heard to say we must have driven the shuttle cars downhill from Hwy's 35/115 as the trail invariable went uphill. To further irritate us it wasn't long before we were joined on the trail by several groups of motor cross vehicles churning up the dust and this went on all the way to the gravel pit, just west of Adventure Relay CP# 4.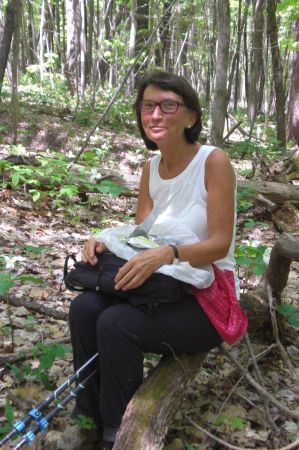 The Forest trail passes through large fields of  Trilliums and every so often Cornelius would pointed out many species flora and fauna but he completely missed the sumac that Eva had to bring to his attention.
We arrived at the gravel pit over look and were met by a welcoming light breeze with dark clouds gathering to the west. It looked like this could be an opening salvo of the promised afternoon showers. We had already sweat buckets by this point and were thoroughly soaked through so no one put on rain gear. Rain would have been welcomed by all.
The clouds moved on and the breeze dropped way ….. no rain.
We finally reach the top of Wilcox Rd. and could see our cars parked on the other side of Hwy's 35/115, Like a doughnut under a glass case! It would be another very long 2Km before we reached those cars!
The trail now travels south down a very steep forest trail to a highway underpass. As we passed from sunlight into the gloom of the tunnel one must take care. There are ruts and hollows underfoot that are completely invisible to eyes which have been used to bright sun light.  
 We finally reached the cars at 2:30PM having hiked 22Km (by my pedometer).  ORTA maps say the distance is 23.3Km but it felt more like 30Km!
Memo to self: BRING 3 LITRES OF WATER FOR THE NEXT HIKE!