EtoE #1 - Palgrave Forest (18km) - 2015-4-06
E2E hike #1, 6 April 2015.
Place: Coolihan's SR to Palgrave Forest parking lot on Hwy# 50.
The hike covered a new rerouted section of Trail from 700m south of Coolihan's SR to Palgrave Forest that has recently been assumed from Bruce Trail by ORTA.
ORTA trail blazing and a kiosk erection will be undertaken later in the year when the weather permits.
A motley crew of 21 hikers, including an Easter bunny, shuttled from the Palgrave Forest parking lot to the trail access point on Coolihan's SR.
The weather forecast had called for shattered showers. But the Easter bunny has friends in high places who gave us a beautiful day of hiking. There was a cool wind blowing lightly at the start but by the end of the hike some 18Km. later most hikers were seen to have striped to their lightest garments.
Ice remained on many sections of the trail; icers were the order for the day's hiking.  Sections of ice free trail were found to be soft and in one area it was necessary to leap across water flowing over the trail.
This is a beautiful section of trail with several lookouts from the Escarpment over the Moraine and through mixed forest.
The first half of the trail is well blazed as a Bruce Trail blue side trail. The forest sections are connected by short road sections. In Palgrave Forest the group turned onto the old ORTA trail at post #6, from here onward trail blazing at best was poor and mainly non-existent. Thankfully forest maps were plentiful at the entrance to the Palgrave forest.
We reached the cars in the Palgrave Forest parking lot at 2:30PM having covered 18km.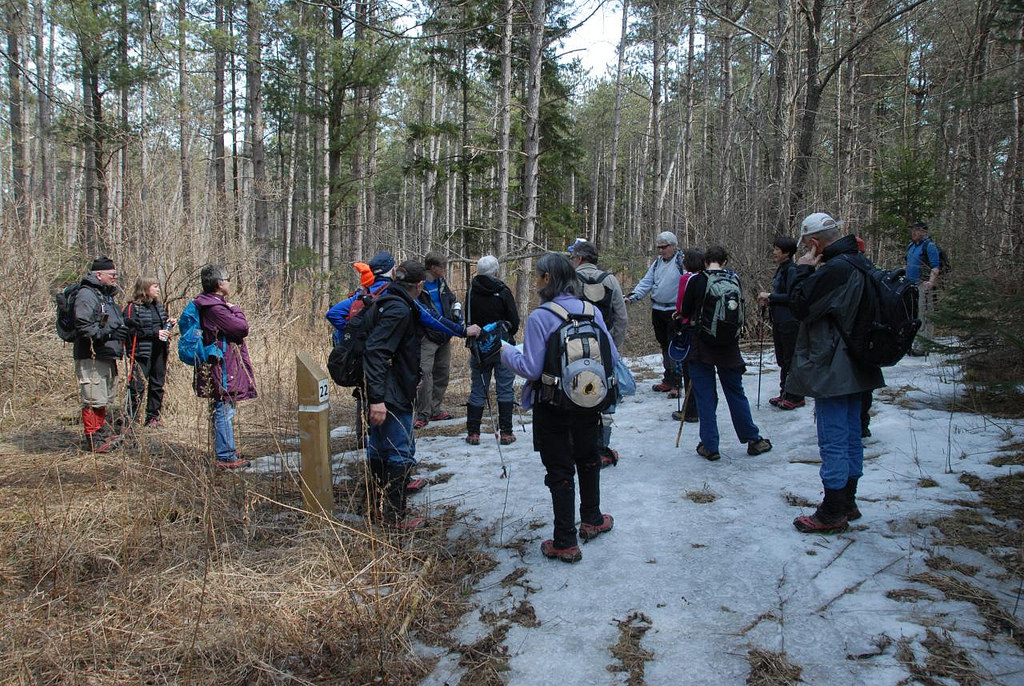 See more pictures of the hike, please click here.